WoodiePod™ - our Packaged Solution
Make the switch from traditional fossil fuels to biomass, it's quick and easy with our innovative WoodiePod™ heating system.
Our WoodiePods biomass solutions feature a pre-fabricated plant room with an integral fuel store, they include the boiler, buffers/s, plumbing, heat meter, electrical wiring with control system and remote monitoring pre-installed ready for connection to an external heating system and the internet.
WoodiePods are available in a range of heating outputs, fuel types (Chip or Pellet), sizes and external finishes including cedar wood cladding and provide a convenient way of installing biomass heating. The flexibility afforded by the WoodiePod™ provides a simple "plug and play" solution, minimising "on site time" often enabling same day delivery and commissioning.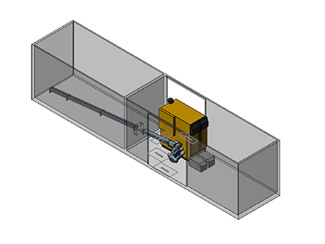 Heating output ranges from 70kW to 199kW using our standard WoodiePod™ solution, alternatively larger outputs sizes are available by physically increasing the size of the WoodiePod™ unit or by cascading multiple units together.
WoodiePod™ has various fuel options, Pellet or Chip, either of which can be delivered to the intergral fuel store via delivery vehicles fitted with blower or alternatively Chip which is normally loaded by external elevator or high lift tipping vehicles.

Our team offer a complete design and installation service for WoodiePod™ biomass heating systems, including mechanical, electrical and civil design works.